PAMELA STEVENS SNYDER
THE PAMPERED OWL | ARTIST
Pennsylvania | United States
On August 4, 2010, my world came crumbling down when I was assaulted during a random act of violence. After being picked up off the street and rushed to the hospital in an ambulance, doctors informed my husband Colin that I had sustained a Traumatic Brain Injury. An injury so bad that it would require years of recovery.
To say we were devastated would be an understatement!
Just three short months earlier, we had gotten married in a beautiful outdoor ceremony with close friends and family by our side. It was a second marriage for both of us, and we were excited to begin our new lives together, along with my then 10-year-old son, Connor. Life was looking so bright!
In one single instant, we were jolted out of our honeymoon phase and tossed into the dark unknown of brain injury recovery. I had to learn how to walk all over again, to correct my speech, to overcome attention issues, and deal with cognitive fatigue so heavy that it would leave me bedridden and unable to enjoy my family.
Two exhausting years later, I was still heavily challenged with PTSD and sound sensitivities. My company had allowed me to work from home, which was great but I found myself becoming more and more despondent and withdrawn. I was always home and rarely went out anywhere. I couldn't even go to the gym to work out because of the noise. I could feel depression beginning to take hold. I knew I had to do something to save myself.
Revisiting the gym idea, I noticed one day that they had yoga classes. I had never taken yoga but I quickly became excited at the thought of a quiet workout. I got to my first class early and spoke with the yoga teacher about my issues. She was so kind and showed me what to do if I became overwhelmed. It was my first time ever taking yoga and I cried after class. I was so happy!
Something changed in me that day. Something about yoga and meditation and the breathwork changed me for the better. I felt it that very first day. I had some challenges here and there but we worked through them together. The physical aspects of yoga (asanas) helped me to feel physically strong. The breathwork helped me when the PTSD would rear its ugly head. But I found that I struggled with the meditation piece.
Because the brain injury had left me in a hyper-aware state, I found it very difficult to settle my mind in any way. It was like trying to take a car going 100 mph and bring it to an immediate stop. I just couldn't slow my mind, and often I would give up, frustrated and discouraged.
One day, I was taking a walk and found some cool stones along the walking path. The stones had some unique characteristics that immediately drew me in. I found myself noticing the textures – some were smooth and round, and others were rough and oblong. Some were light, and others were heavy. A few minutes later, I realized I had been focusing on these stones for a couple of minutes without even realizing it! I also realized that my mind was slow and calm.
Encouraged, I took the stones home and began using them as focus points in the beginning of my meditations, and it worked beautifully! I was able to quickly slow my mind and body using them. I was in heaven!
Painting BY Pamela on Mandala Stones
Soon, I began painting mandala patterns on lava stones and using them during my meditations, too. Lava is known for its naturally calming characteristics, grounding and stability.
Friends and family convinced me that I just had to share my painted stones with others, and The Pampered Owl was born!
Fast forward to today – my husband Colin and I both hand-paint large lava stones as meditation stones, and smaller lava stones as necklaces, or 'wearable tranquility', as we say. We have a lovely group of people join us on our Facebook page every week as we
share some of our products through giveaways and offer information on how to live a more tranquil life.
Our mission at The Pampered Owl is to help others find their inner peace again, to practice daily gratitude, and to be mindful and present in thoughts and actions. Self-care is crucial, especially in this day and age, and we are honored to be a part of helping others live fuller, healthier, calmer lives!
So many of our customers have shared how our stones have helped them in their lives. They love the beauty of the hand-painted designs, and the special mandala meaning behind each one. They share comments and pictures of their stones. This makes us truly happy that we can be a positive part of their lives. We are honored to be a part of their journey. I believe that we are all here to help each other in life.
One of my favorite quotes of all times is by Ram Dass: "We are all just walking each other home." I love that quote because it signifies that we are all in this life together and we will end up together afterward. Let's make each other's journey as positive as we can, for as long as we can. In the end, all we really have is each other. So let's make it great!
ABOUT
Pamela Stevens-Snyder is the owner and artist of The Pampered Owl, an online shop that encourages men and women to practice daily gratitude, mindfulness, and self-care through the use of their hand-painted basalt lava stones. Pam is an experienced artist, yoga and meditation teacher, and happy vegetarian. She left the corporate world of technology to focus her talents on helping others live calmer lives and enjoy every moment on purpose.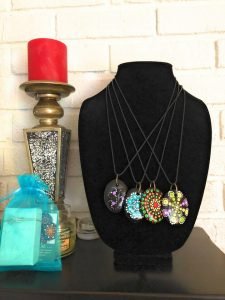 CONNECT