UNNATHI GANDHI
CELEBRITY FASHION DESIGNER
MUMBAI | INDIA
I wonder how our life has changed with our new normal of quarantine life, being cautious of the environment and being aware about it to keep us safe & healthy.
Given my previous schedule, where I didn't have the time to do things, I am doing it now with the lockdown. (India has mandatory lockdown from the beginning of the spread of covid-19 as a safety measure to protect people from the deadly virus.)
I am now entitled to do every possible household chores from cooking to baking to cleaning & as well my me time binge-watching on my favourite shows & the playlists that had been saved for later watch, finally having the time to see it, catching up with your friends virtually.
Apart from all of these, what about the procrastination for rearranging our wardrobe? I know it's quite tedious & a bore to do it. But I'm pretty sure we cannot ignore our favorite designer clothes, heavily embroidered ones, ensembles, and knitted outfits. I feel they have been quarantined in our wardrobe for the longest period of time. How about sanitizing your clothes as well for once in a while?
Hi, I am Unnathi Gandhi from Mumbai, India, being a fashion designer, clothes are always on my mind. I am always vouching for the fact that to give some time to your clothes, they do need air to breathe just like us for durable shelf life. You don't want to shock yourself with rust or wear or tear with your clothes when you finally get them to wear after the pandemic is over and no more wearing of your current routine of pajamas, night suits, or tracksuits.
I would like to share a few of my tricks & tips that I follow as well to make sure that clothes always have that new look & are fresh as daisy.
Keeping heavy and knitted outfits safe:
1.Naphthalene Balls
To protect clothes from foul smell and especially heavy clothes that are not in regular use or frequent use, Naphthalene balls are at the rescue. Naphthalene balls or mothballs prevent clothes from moths and from the foul/stale smell when clothes are stored for months and helps clothes to look fresh even when stored for the longest period of time. A netted bag with naphthalene balls can be kept in a corner of the wardrobe, will protect your expensive clothes from moths and foul smells. Well, avoid direct touching with naphthalene balls & store them in cool places because of their flammable properties.
2.Camphor | Kapur
I cannot stress enough on the fact that our clothes do get stressed behind the closed doors 24 x 7 in our closet/wardrobe. Well, of course, I am not asking to keep doors open, (that is as well cool to not have doors to your wardrobe), Our Dresses, Gowns, Wedding Dresses, Lenghas (Indian Wear) embellished with heavy embroidery such as zari work (glitter work), zardozi, Kundan work (Pearls & stonework) are on the greater possibility of rusting (turning into black color!). To prevent rusting & withstanding for durable shelf life, simply take a few Camphor or Kapur balls in a small cotton bag, and keep it next to your clothes, or in the garment bag. It can be as well used as a substitute for Mothballs. Store them in cool places.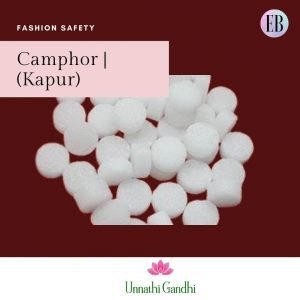 3.Essential Flower Powder
Nothing can be curing & soothing than nature's flowers. Lavender, Sandalwood, or rosemary powder sachets when kept in the wardrobe it keeps the clothes away from smelling. Clothes breath fresh. And it is also an effective way to avoid moths.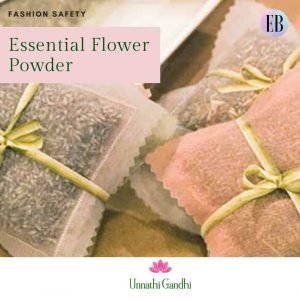 4. Vinegar as detergent
Vinegar removes molds from clothes. Around 82% of molds species can be killed by vinegar and also removes moldy smell from the clothes.
How to use Vinegar for clothes :
Put 2 cups of vinegar along with detergent you use in the washing machine. And you will feel your clothes look fresh and do not have a pungent smell anymore.
BACK TO BASICS – ORGANIZING YOUR WARDROBE.
5. Rearranging Folds
Rearrange folds for stored sarees (Indian Wear), Dresses & Gowns, and ensembles. Refolding them from time to time will make sure that outfits don't tear from creases and that outfits are maintained. Fabrics like tissue, organza, and Kora silk are delicate fabrics and need to be maintained and taken care of regularly.
6. Mulmul | Muslin bag
These bags are the savior for all the heavy stone embroidered outfits and heavy zardozi embellishments. Saves and protects from unnecessary pulling threads or fabric. The best way to keep a store of your suits, dresses, lenghas, sarees (Indian Wear), evening gowns.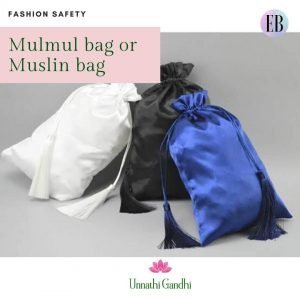 7. Wrapping
Bio-Degradable Plastic wrapping for heaving tassels and hangings of blouses, lehengas will ensure the outfit safety, tassels, and hangings safety as well as preventing thread pulling. In case of a severe snagged thread on your dress/ suit simply cut the thread and ironing with the steam press over that area will help minimize the damage.
8. Sun Bath
We all love sunbaths, and so do our clothes. Pro Tip: Laying your clothes under the sun will help from getting rid of that foul smell and it can be done to your regular outfits too which are locked inside the wardrobe for a long time now.
ABOUT
I am Unnathi Gandhi, A Fashion Designer from Mumbai, India. Fashion has always been an integral part of my life. My fashion line offers mainly quirky yet classically cut outfits. I focus on luxurious materials and a classic youthful look that is more playful than preppy but continuously carries a demure elegance without losing a hint of sexiness.
Unnathi Gandhi is a Business Management Masters Student, Her Label – Unnathi Gandhi was started in the year 2015, Few of her clientele includes Singer Bhoomi Trivedi (Singer), Rangeeli Ruchi (FeverFM RJ), Jyostna Chandola (Actress) for fashion endeavors. She has been awarded as Society IKON for the best fashion designer and was the youngest amongst the competing fashion designers, for which she was featured for the same in the elite magazines.
CONNECT